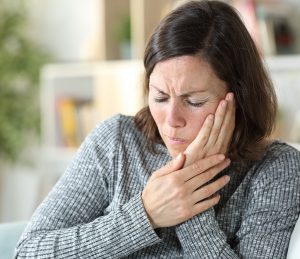 Temporomandibular joint disorder is a painful condition that afflicts millions of people. It can have a serious impact on those who have it. We have effective treatment at Sleep Apnea & TMJ Solutions in Brentwood and Murfreesboro TN.
There is no single cause of TMJ disorder. It may be the result of trauma, or problems with way your teeth come together when you close your mouth. It can start as early as childhood. But the fact is that when it comes to TMJ disorder, there are still many unknowns.
Get Help!
It may not be life-threatening, but TMJ disorder can make day-to-day living difficult. Common complaints associated with it include:
Chronic jaw pain
Difficulty chewing
Headaches
Ringing in the ears
Treatment can relieve these issues. Not treating it can lead to other issues. Difficulty sleeping is common. Many sufferers self-medicate and end up dependent on alcohol or other substances that once brought short-term relief.
Not treating TMJ disorder can also lead to dental problems like cracked teeth and worn tooth enamel.
If you are coping with jaw pain, please contact Sleep Apnea & TMJ Solutions in Brentwood and Murfreesboro TN. An accurate diagnosis is the first step toward an effective treatment plan. Call us and schedule an appointment today!
Contact Sleep Apnea & TMJ Solutions:
Location (Tap To Open In Google Maps):